FLOOR PLAN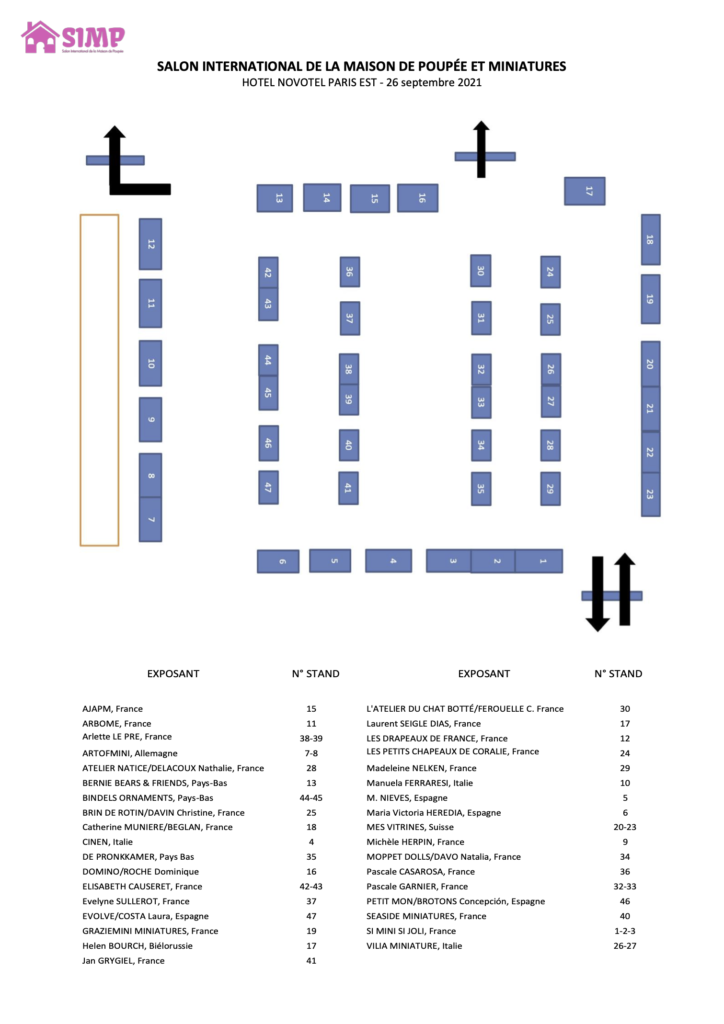 IMPORTANT NOTICE
THE HEALTH PASS WILL BE MANDATORY FOR ALL VISITORS ON THE DAY OF THE EVENT
AS WELL AS THE WEARING A SURGICAL MASK COVERING THE NOSE AND MOUTH.
CHANGE OF DATE
Although the French government has given its agreement for the trade shows to take place from June, we have decided to postpone the SIMP until September 26th.
Certainly, we all can't wait to get together to share our passion, but it would not be responsible for us to put your health at risk.
We therefore believe that it is more prudent to postpone the SIMP by a few months so that the health situation is more under control and thus enjoy a more serene and friendly day.
So, see you on September 26!!
SIMP SEPTEMBER 26 2021
UPDATED EXHIBITORS LIST
EXHIBITORS 2021 – PROVISIONAL LIST
AJAPAM, France
ARBOME, France
ARTOFMINI, Allemagne
BERNIE BEARS & FRIENDS, Pays-Bas
BINDELS ORNAMENTS, Pays Bas
CAUSERET Elisabeth, France
CHRISTOPHE Carole/LE BOUDOIR D'ALICIA, France
CHRISER MINIATURAS, Espagne
DAVIN Christine/BRIN DE ROTIN, France
DELACOUX Nathalie/ATELIER NATICE, France
FEROUELLE Catherine/L'ATELIER DU CHAT BOTTÉ, France
FERRANDIZ Carmè, Espagne
FERRARESI Manuela, Italie
FRANZY'S PARADIES, Suisse
GARNIER Pascale, France
GRANDSERRE, France
GRAZIE MINIATURES, France
HEREDIA Maria Victoria, Espagne
HERPIN Mi!chèle, France
KUNSTGEWERBE & MINIATUREN, Allemagne
LE PRE Arlette, France
LES PETITS CHAPEAUX DE CORALIE, France
LITTLE HOUSE AT THE PRIORY, Royaume-Uni
MARIE MINIATURES, France
MAYLAR, Serbie
MES VITRINES, Suisse
MON&MON, Espagne
MONTSE COMPANY, Espagne
MUNIERE Catherine, France
NELKEN MADELEINE, France
NIEVES M. Maria Lucia, Espagne
SI MINI SI JOLI !, France
SULLEROT Evelyne, France
THE LITTLE DOLLHOUSE COMPANY, Canada
TOMOKO, Japon (en attende de confirmation)
———————————————————————————————————————————————————————————-
The next International Dollhouse Show will be held on June 20, 2021 at the Novotel Paris Est hotel, 1, avenue de la République,93270 Bagnolet, France.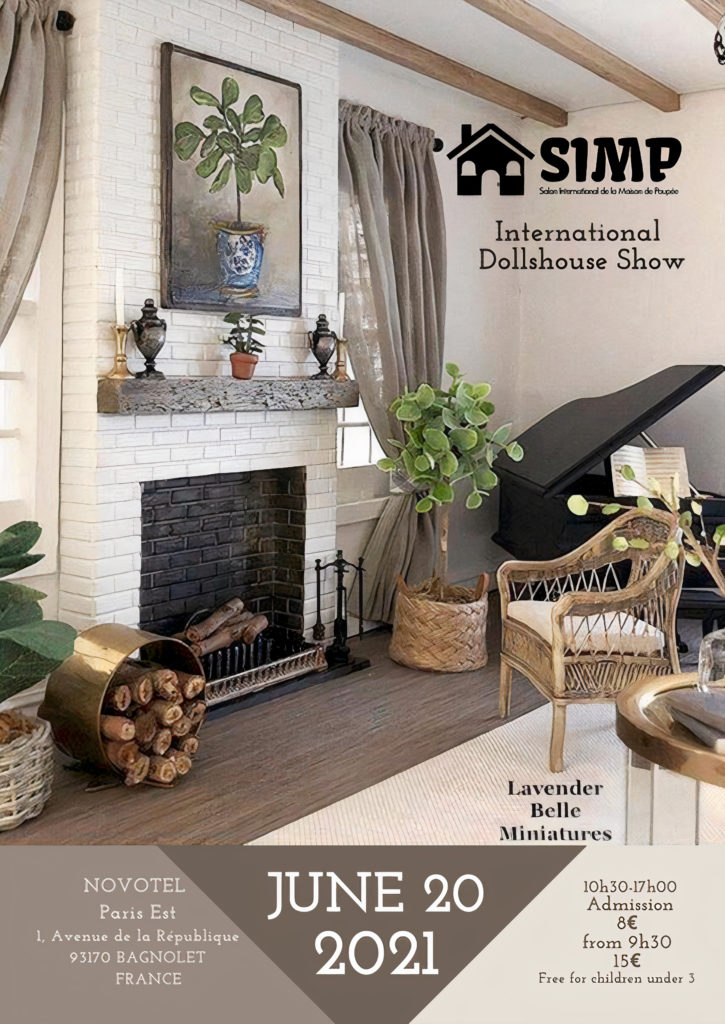 SIMP 2020 CANCELLATION
I regret to inform you that, due to the current circumstances in France, the Fondation Biermans-Lapôtre, decided not to host our event. Therefore, I am forced to cancel the upcoming SIMP show scheduled for June 14.
Be assured that I am really sorry by this situation, although it is beyond my control.